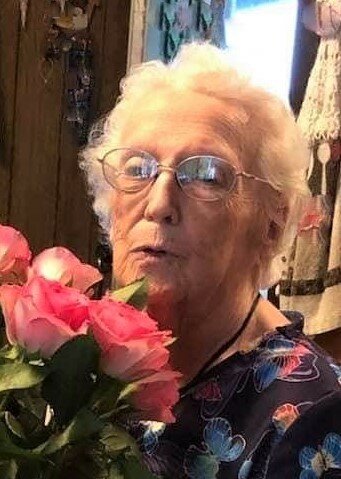 Obituary of June E. Wood
June E. Wood, 94, of East Meredith, passed away at her home on Monday, November 22, 2021
Born on June 18, 1927 in the town of Kortright, June was the daughter of the late Edward D. and Alyce (O'Dell) Smith.
She was a 1944 graduate of Charlotte Valley Central School.
June was married to James W. Wood on July 17, 1948, James passed away on July 8, 1976.
She enjoyed crossword puzzle books, reading, playing cards and scrabble, needlework, cross stitch, watching birds and watching Polka on the TV.
Besides her parents and husband, June was predeceased by brothers: Roy Smith and Milton Smith; sister: Georgia "Betty" Utter; and brother-in-law: Carl Utter.
She is survived by her sons: David (Judy) Wood of Davenport Center, Donald (Linda) Wood of Fergusonville, Dennis (Patsy) Wood of Searsport, MA, and Kevin (Susan) Wood of Worcester; grandchildren: Chris (Charlie) Consler, Kelly(Craig) Gardner, Aaron (Jennifer) Wood, Connie Wood, Donald Scott (Michelle) Wood, Brian (Katie) Wood, Adam Wood, Megan (Joey) More and James Wood; great-grandchildren: Alex and Zachary Consler, Kyle and Chassidy Gardner, Joshua, Abby, Cole, Leah, Megan Wood, Hunter, Sage and Jade More; great-great-grandchildren: Camille Neudecker, Alexis Harris and Jameson Wood; one brother: Allan(Joan) Smith of East Meredith; and several nieces, nephews and cousins.
A celebration of life will be held at 1PM on Saturday, December 4, 2021 at the MacArthur Funeral Home, 15 Buntline Drive, Stamford. Burial will be at Davenport Cemetery.
Please visit www.macarthurfh.com to share a condolence with the Wood family.