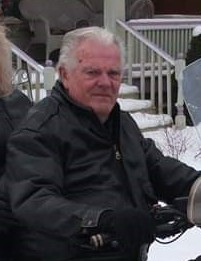 Obituary of James P. Barr, Sr.
James Barr, Sr., 81, of Hobart passed away Wednesday afternoon, September 30, 2020 in Hobart surrounded by his family.
Born on October 24, 1938 in Brooklyn, he was the son of the late William and Anne Barr.
James worked for several years for the Brookhaven Highway Dept. until retiring and moving to Hobart in 1985.
He was married to his wife of 53 years, Marcy, until her passing in 2013. Jim and Marcy also owned the former Hobart Café.
James was an avid antique phone collector, opening the Jim Barr Antique Telephone Museum in Hobart.
He also enjoyed riding his trike and was a member of several motorcycle groups in the area.
Besides his wife, James was predeceased by a daughter: Karen Seymour.
James is survived by three children: Jim (Roseann) Barr, Jr., Cheryl Barr and Dick (Holly) Barr; grandchildren: James (Annie) Barr III, Brian Barr, Shannon Barr, Ryan (Amanda) Oakley, Kyle (Barbara) Oakley, Reagan Barr, Cameron Barr and Jonny Barr; great-grandchildren: Ashlee, Kiera, Giovanna, Kailey, Jayden, Kaleb, Aydan, Marc and Urijah; and several nieces, nephews, cousins and friends.
At Jim's request there will be no calling hours or funeral services.
Contributions in memory of Jim should be made in support of the 2020 Trump Presidential election.
Please visit www.macarthurfh.com to share a condolence with the Barr family.