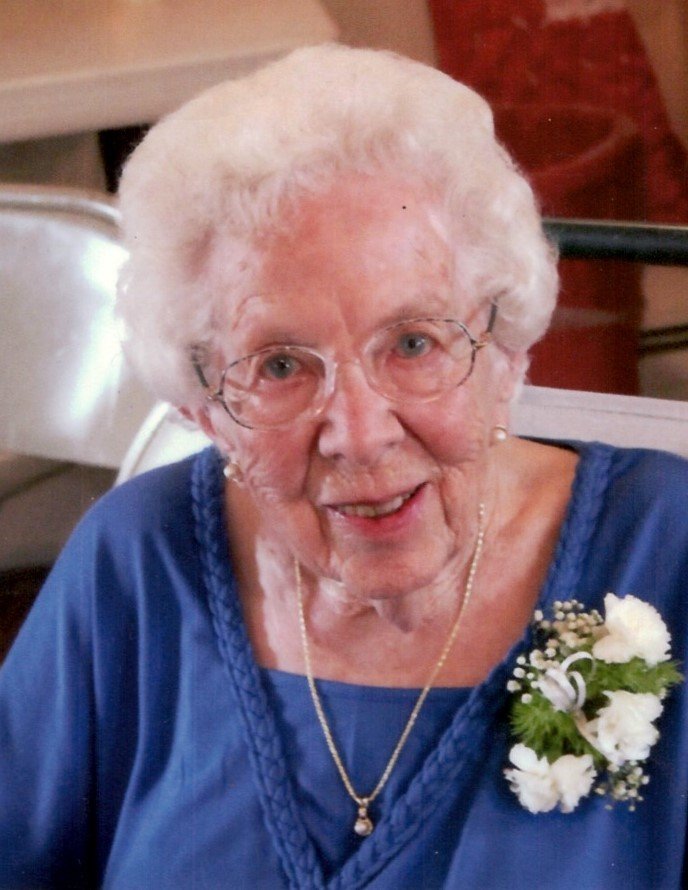 Obituary of Ellen L. Sanford
Ellen L. Sanford, 106, passed peacefully on August 20,2020, at Delhi Rehab and Nursing Facility where she had resided since January 2018. She was born November 1, 1913 in East Meredith, the daughter of William and Susan Zeller.
After moving with her family to Bloomville at a young age, she received her education in Bloomville where she rode her horse from the family farm on Webster Brook. After her high school days, she met and eventually married Marion "Slim" Sanford on August 23, 1931, in Walton. Soon after, they bought a small farm on Bell Hill, Delhi, N.Y., where they raised their five children. After the death of her husband on November 27, 1959, Ellen worked at the campus store at Delhi College and also for the census bureau before enrolling in the first LPN school offered at Fox Hospital, Oneonta, N.Y. After graduation, she was employed for her entire nursing career at Fox Hospital, eventually retiring as charge nurse on Unit One of the nursing home. She was an extraordinary nurse who loved her job and her patients.
In addition to her parents and her husband, Ellen was predeceased by two brothers, Calvin and Walter, her eldest son Richard Sanford of Delhi and two sons-in-law, Richard J. O'Hara of Otego and Richard Pearson of Delhi. Surviving are one son Robert (Mary) Sanford, Delhi, and three daughters, Susan Pearson of Delhi, Marie Parenteau of Weston, Florida, and Ellen O'Hara (Doug Whittaker) of East Meredith; eight grandchildren, Philip (Roxana) Parenteau, Jean Parenteau (Robbie Weaver), Kristin (Jeff) Parenteau-Kovalsick, Richard Pearson, Nancy Pearson, Erika (Donnie) Liddle, Alan (Kelly) Sanford, Steve Simmons (Jane Murphy); seven great grandchildren, Shylabeth (Ryan) Taylor, Mackenzie Liddle, Taylor Simmons, Hunter Simmons, Jordan Sanford, Alan J. Sanford, Colby Sanford; and one great great grandson, Jack Taylor. She is also survived by son-in-law Phil Parenteau Sr and many nieces, nephews and cousins. In addition to the many, many friends who loved her dearly, she leaves behind several special friends including, but not limited to, Linda Shepard of Delancey, Paul and Carol Dibble of Bloomville, Evelynne Heineman of Lewes, Delaware, Gert Mostert of Delhi and the Bloomville Methodist Church ladies.
Ellen was a truly remarkable lady who always put family first and who had the ability to always think positively, regardless of the circumstances. She was a "people person" who rushed to put the teapot on when friends or family dropped by to visit and hear her wonderful stories of growing up during simpler times when she rode her horse to school and raced the boys home afterwards (and won!) , or when a evening out involved going to house parties in a horse drawn sleigh which, on one occasion, tipped over in a snowbank when they rounded a corner too fast. She was never without a smile and was known for her sense of humor and quick wit. The words, "I just love your mom" were repeated continually by her friends and nursing home caregivers/employees and as one fellow resident was overheard saying, "She's as cute as a button!" She made a lasting impression on everyone she met, young or old, and she will forever be held close in many, many hearts.
Graveside services will be held at 11AM on Friday, June 18, 2021 at the Woodland Cemetery in Delhi, followed by a celebration of life at the Delhi American Legion, Page Ave., Delhi.
For those who wish, contributions in her memory may be made to the United Methodist Church, Bloomville, N.Y., the Bloomville Emergency Squad, Bloomville, N.Y., or any charity of your choosing.

Please visit www.macarthurfh.com to share a condolence with the Sanford family.