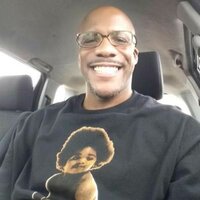 Guillaume Nkrumajh Malik "Coco" Thomas
Guillaume Nkrumajh Malik 'Coco' Thomas returned to his Heavenly Father on Saturday, December 25, 2021.
Guillaume was born on November 26, 1970 to Barbara Adams & William Thomas in Brooklyn, N.Y.
Guillaume and his mom moved to Schenectady, N.Y. when he was a little boy & he attended Delaware Academy in Delhi, N.Y., St Luke's Elementary and Linton High School in Schenectady, N.Y., & Clinton Community College in Plattsburgh N.Y.
He moved to Houston TX in 1994, both for the warm weather and career opportunities. Sports was always a lifelong passion and Guillaume excelled at Little League baseball, Pop Warner football, high school and college basketball and officiated basketball when he was older.
Guillaume's gregarious, fun loving, and loyal personality drew people to him and his memory is cherished forever by many lifelong brothers in New York and Texas, as well as his colleagues at Liskow & Lewis.
He was pre-deceased by his father William Thomas, grandmother Mable Adams, grandfather John Adams, and Aunt Jacqueline Williams.
He is survived by his loving and devoted family, his mother: Barbara Munderville; stepfather: Kenneth Munderville; uncle: John Adams Jr; and cousin Aphiena Johnson. Guillaume's Mom is comforted by the overwhelming outpouring of love from his many friends in New York and Texas.
In lieu of flowers, donations may be made in his memory to St. Jude Children's Research Hospital.
Please visit www.hallandpeet.com to share a condolence with Guillaume's family.