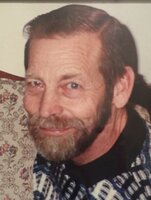 Eugene A. Olsen
Eugene Avery Olsen, 84, of Bloomville, New York, passed away on November 14, 2021, peacefully in his sleep.
Geno spent most of his life in the Bloomville area, where as a boy he mowed lawns for 25 cents each, and as a young man worked with his father installing the first TV cables in the area. He later became a butcher and then as he liked to joke a "wood butcher" doing carpentry work. He built his own home in Bloomville "on the hill". He loved to work and wouldn't quit, even as he struggled with dementia. He was very proud of his service in the National Guard and took great pride in the Flag.
Geno loved being out outdoors in the woods hunting, fishing, trapping, and raising and showing dogs. He enjoyed telling his hunting stories to anyone who would listen. More than anything he enjoyed spending time with his wife and his beloved dog Sophie. He was known for his kind heart and playful humor. Loved by all who knew him, Geno will be greatly missed.
He was predeceased by his parents: Otto and Adelia Olsen; sister: Avis Miller; brothers: Otto Jr., Fred and Melvin Olsen; brother-in-law: Chuck Miller; sisters-in-law: Jackie Larocque and Judy Hughes.
Geno is survived by his wife: Marilyn Olsen; daughters: Karen (Tina) Olsen, Kathy Olsen; Sandy (Robert) Olsen-Swart, Nancy Olsen, and their mother Bonnie Holley; grandchildren: Billie Jo Mayle, Jason (Jackie) Olsen, Nathan (Kayla) Stewart, Teresa Stewart and Makayla Swart; and several great-grandchildren, nieces, nephews and grand nieces and nephews. He is also survived by his in-laws: Floyd Miller, Melanie, Snyder, Kathleen Rawles and special sisters and brother-in-law: Linda and Carl Davidson and Deb Olsen; and last but not least, Geno is survived by his dog: Sophie.
A celebration of Geno's life will begin at 1PM on Saturday, November 20, 2021 at the Bloomville Fire Hall.
Please visit www.macarthurfh.com to share a condolence with the Olsen family.