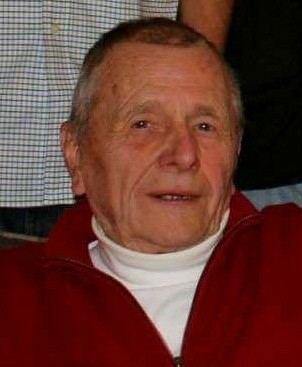 Jack W. Harmon
Jack W. Harmon, 92, of Richmondville, formerly of Stamford, passed away on Wednesday, September 8, 2021 .
Born on January 14, 1929 in Syracuse, Jack was the son of the late Albert and Gladyce (Minckler) Harmon.
Jack graduated from Eastwood High, where he met his wife of 72 years, Ardeth Busch. They were married on June 19, 1949 at the Old Welsh Church in Nelson, NY. After holding several jobs in Syracuse, he joined GLF Feed & Farm Supply which brought him and his family to Jefferson, in 1956, to manage the local store. In 1962, Jack began working at the Mirror Recorder and Windham Journal as an advertising representative and relocated his family to Stamford in 1968. After more than 20 years of being the Advertising Manager, Jack resigned and started the Jack Harmon Agency, where he handled advertising, marketing and printing accounts. He later purchased a postcard distributorship that led him to pursue his interest in photography and a contract with the US Department of Agriculture to take aerial photographs of several counties in upstate New York. In the 1970's Jack created and distributed the Stamford Golf Club's Tee Times which lasted for over 30 years. Jack retired in 2010.
Jack also served in the US Naval Reserves from 1946-1950.
Jack loved to serve the community. In his years in Stamford, he served as a Village of Stamford Trustee, Deputy Mayor and he also served on the Village Parks and Recreation Committee. He was instrumental in starting the Russ Archibald Softball League and served as acting President as well as playing on the Peppercorn Team. He was Past Master of the former Working Masonic Lodge #554 F&AM in Jefferson and served as a Patron of the Eastern Star. From 1964 to 1968, Jack managed the Jefferson Little League and at the seasons end, secured donations from local businesses to take the players to either Yankee or Shea Stadiums. Jack was also active in the Kiwanis Club and later Stamford Rotary, where he earned the distinction of becoming a Paul Harris Fellow. He was always seen working at the Rotary's Annual Car Show and Labor Day Chicken BBQ. Jack was an avid bowler and golfer. He aced the the 17th hole at Stamford and fell one strike short of a perfect game in bowling. Jack was not shy from offering his conservative opinions and would often spur debate by submitting letters to the editor to local newspapers. He would occasionally say "he's a good man" for someone who he had come to respect. Jack WAS a "good man".
He is survived by his wife: Ardeth B. Harmon of Richmondville; two children: Melodie Neary of Richmondville and Jack D. (Pam) Harmon of Longboat Key, FL; five grandchildren: Eamonn(Jenny), Meghan, Brendan(Lauren), Justin(Amanda) and Matthew(Taylor); two great-grandchildren: Ronan and Riley.
Jack was predeceased by a son: Kurt Christian in 1977 and his son in law Kevin Neary in July 2021.
Private burial will take place at the convenience of the family.
Please visit www.macarthufh.com to share a condolence with the Harmon family.