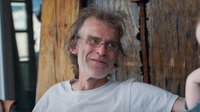 Tjalling Floris Heyning
Tjalling Floris Heyning, our beloved brother, uncle, brother-in-law and stepfather, passed away unexpectedly in the early morning hours of September 8, 2020 at Upstate Medical Center in Syracuse from complications following cancer surgery.
He was a colorful, warm personality with an unconventional outlook on life, touching many with his wit, spirit and positive attitude. His quirkiness made him the special person so appreciated by the many friends he acquired during his lifetime. His strength lay in acceptance of the diversity he met all around him.
After spending his formative years in the Netherlands, he made his home in the US in the late 1970s.
The house he built from scratch, overlooking the West Kortright valley, became a favorite vacation spot for his many overseas visitors, as well as a welcoming center for endless potluck events after swimming, skating, hiking or cross-country skiing parties.
He leaves behind a step-daughter: Otelia; a sister: Heleen; and two brothers: Bart and Nicolaas with their spouses; as well as a niece: Alexis; and three nephews: Julius, Philip and Pieter with their significant others.
Please visit www.macarthurfh.com to share a condolence with Tjalling's family.