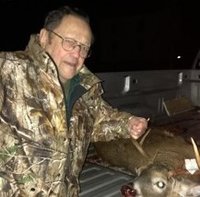 Roy Bower
Roy Bower, 90, of Jefferson, passed away on August 28, 2020.
Roy was the son of the late Gustave and Gladys (Bock) Bower. He grew up in Williston Park, Long Island. After graduating from Park Avenue Herricks School, he enlisted in the US Navy proudly serving for 4 years.
In 1953 Roy married Catherine Hollenczer and together they raised four children in Williston Park. Roy worked for Nassau Suffolk Lumber and was a member of the Williston Park Fire Dept.
In 1967 Roy moved his family to Jefferson. He was custodian at the Jefferson Central School until his retirement in 1995. Roy belonged to Jefferson Fire Dept. and was a driver for the Jefferson Rescue Squad. He was also a member of the VFW and American Legion.
Following retirement, Roy and his family enjoyed camping at the Sacandaga during the summer and he and Kay would travel west to visit family in the winter months.
Roy's hobbies included his long time passion for playing softball both in Williston Park and in the Town of Jefferson. He was an avid hunter and fisherman and loved spending time with his children, grandchildren and great-grandchildren.
Besides his parents, Roy was predeceased by his wife of 50 years, Catherine (Kay) and two brothers, Alan and Roger.
He is survived by four children: Cathy (Mike) Rasi, Linda Power, Roy (Maureen) Bower and William (Sabina) Bower; eleven grandchildren and seventeen great-grandchildren.
In memory of Roy contributions may be made to St. Jude's Children Hospital, Helios Care (Hospice) or the Jefferson Fire Dept.
At Roy's request there will be no funeral services.
Please visit www.macarthurfh.com to share a condolence with the Bower family.