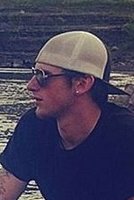 Clayton J. Collins
Clayton J. Collins, 20, of Jefferson, tragically passed away early on February 5, 2019 from injuries sustained in a motor vehicle accident in the town of Harpersfield.
Clayton was a kindhearted, smart young man. Who was loved by all who met him. He was there to help anyone who needed it no matter the time or day. He had a love for all animals especially his beagle pups. Clayton was an avid outdoorsman with all the luck and skill, with the photos and mounts to show for it. He just purely loved being outdoors, from the age of 5 he never missed the first day of fishing or hunting season. Clayton also knew how to live his life to the fullest, breaking and creating his own rules as he went.
Clayton also liked to joke, always surprising you with what he would say or do, whether it was making fun of himself or you. He was able to make you so mad but still laughing and smiling at the same time, leaving you just shaking your head.
Clayton is survived by his father: Butch Collins of Stamford; Mother: Brenda (Justin)Kennedy of Elk City, Ok; sister: Karlie Collins and niece Macy Gregg and a soon to be Nephew of Apalachin; brother: Ace Collins of Elk City, Ok; grandmothers: Anna Collins and Dena Garner; grandfather: Richard Garner; Aunts: Diane Collins and Sonja (Mike) Stephens; and many loving cousins and close friends who he considered family: Ashley "Mom", Corey, Chris, Lenny, Steven and Steph .
Clayton's was predeceased by his Grandfather and idol: Frank Collins; aunt: Pamela Garner; and uncle: Vince Trimbell.
Friends and relatives are invited to call on the family from 10-noon on Saturday, February 9th, 2019 at the MacArthur Funeral Home, 15 Buntline Drive, Stamford, where a celebration of Clayton's life will follow at noon with the Rev. Mike Gephardt.
In lieu of flowers please contribute in memory of Clayton to Hunt of a Lifetime (www.huntofalifetime.org)
Please visit www.macarthurfh.com to share a condolence with the Collins family.