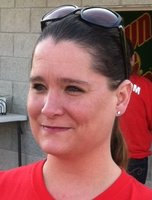 Kelle Clark Diaz
Kelle A. Clark Diaz, 42, of Schenevus, passed away at her home on Sunday evening, January 20, 2019 follow a courageous battle with cancer.
Kelle was born on July 3, 1976 in St. Petersburg, FL. Kelle attended the University of South Florida in Tampa.
She worked as an Accounting Clerk for Bassett Healthcare until she was forced to retire early due to her illness, Kelle enjoyed the time she shared with her co-workers.
Kelle also liked searching for bargains and treasures at flea markets and yard sales.
She is survived by her parents: Laura and Gary Clark of Schenevus; her companion: Seth Wolle of Schenevus; sisters: Stephanie (Tim) Laymon of Ozark, AL and Cassandra Clark of Round Lake, NY; Aunts: Barbara Murray of Schenevus, Leona Hunt of Stamford, Dorothy Clark of Malta and Terry (Jim) Novorr of Oneonta; Uncles: Douglas (Margie) Hoelzle of Clearwater, FL; Thomas Hoelzle of Clearwater, FL, and Timothy Hoelzle of Roanoke, VA and several nieces, nephews and cousins.
Private services will be held at the convenience of the family.
In lieu of flowers please send memorial contributions to Catskill Area Hospice and Palliative Care, www.cahpc.org