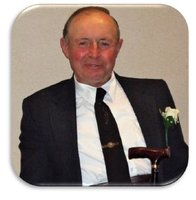 Max Richard Baldauf
Max Richard Baldauf, 81, passed away unexpectedly Thursday, January 17, 2019 at his farm in DeLancey, NY. He would often joke of his wish to pass with his barn boots on. Ironically, he peacefully passed while doing what he loved most -- working in the barn.
Richard was born February 5, 1937 to Emil Reinhard and Ida Frieda (Roemer) Baldauf at the family farm on Terry Clove Road, a place he would call home for his entire life. He was a 1954 graduate of Downsville Central School and from 1957-1959 he served a mission for The Church of Jesus Christ of Latter-Day Saints in northern California. On August 20, 1960 he married Marlene Ehlermann in East Meredith, NY; they were later sealed for time and all eternity in the Salt Lake Temple on June 14, 1961. In 1962 they purchased the farm from his father; together they raised eight children and instilled in them a love of the land and the value of hard work.
His life revolved around faith, family, and farming, and he was fortunate to farm with his family by his side. Though quiet by nature, his actions demonstrated his love and teaching moments for his family. His love for animals and his attraction to the land found him working tirelessly throughout his life. He served on various local agricultural boards and committees. In addition to the harsh demands of farming, his faith in and service to the Lord were also of utmost importance to him. He was always diligent in his church responsibilities which included many leadership roles, opportunities to travel and speak with congregations around central New York, and serving in the Palmyra New York Temple. In his spare time he enjoyed hunting, fishing, berry picking, square dancing, gardening, stacking wood, reading, and telling stories.
He is survived by his devoted wife of 58 years, Marlene Baldauf, his children and grandchildren, Susan & Larry Hoyt (Bryan & Courtney), David & Amy Baldauf, Jeffery & Gina Baldauf (Zachary, Megan, Nathan, Trevor, & Tyler), Marsha Baldauf, Brian & Teresa Baldauf (Jake & Sarah), Robert Baldauf, Christine Baldauf, and Sandra & Patrick Noonan (Connor & Hollene). He is also survived by siblings Hilda Baldauf, Herbert Baldauf, Martha (Susie) Gilham, Elsie (Beth) Hansen, and Louise Larchar, as well as many nieces, nephews, and cousins. He was predeceased by his parents and brothers Paul and John Baldauf.
Family and friends are invited to call on Friday, January 25, 2019 at The Church of Jesus Christ of Latter-Day Saints, Delview Terrace, Delhi, NY from 4:30 – 6:30 pm. Funeral services will take place at the same location on Saturday, January 26, 2019 at 12:00pm, with a luncheon to follow. Burial will take place in the Hamden Cemetery at a later date.
Those wishing to do so may make a donation in his memory to the The Church of Jesus Christ of Latter-Day Saints Humanitarian Aid Fund c/o President Brian Knight, 2467 Back River Rd, DeLancey, NY 13753.
Please visit www.hallandpeet.com to share a condolence with the Baldauf Family