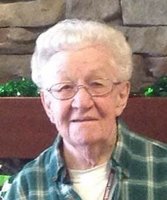 Marie Tompkins
Marie went to be with the lord on April 5th 2018. She passed away with family and loved ones by her side.
Born on March 19, 1930 on her father's farm in Gilboa NY, to Claude and Alice (Stevens) Mattice SR. She was the first in her family to attend the Gilboa School, starting first grade as there was no Kindergarten. Marie had many jobs in her life with her first being at the football factory in Stamford and her last being at Graham Laboratories where she retired after 21 years.
Marie enjoyed her retirement with many hobbies that include going out dancing, fishing, yard sailing, and gardening. She had a big heart, loved helping her family and loved ones. Marie loved her family and friends dearly, with her greatest love being Grandma Me-Me.
Marie is survived by her brother Benny Mattice of Hobart, sister Patty Mattice of Stamford. Her first Husband Fred Schermerhorn of FLA. Her children Beverly & David Swart of Gilboa, Jeannine & Earl Luquer of Davenport, and Alice Schermerhorn of PA. Her grandchildren and their families Celeste & John Riggi, Brian Swart, Becky Obryon, Tisha Grizzard, Scarlet & Lloyd Henderson, Debb & Billy Sutton, Amanda & Chad Mace, Jessica Walker & Clinton Schulz, Christina Walker & Brad Palmatier, Ashley Kelsey and Paul Parker. Many great-grandchildren, great-great-grandchildren, nieces, nephews, and friends.
Predeceased by her parents Claude and Alice Mattice, several brothers and sisters, and her second husband Harold Tompkins.
A celebration of her life will be at noon on Monday April 9th, at Hobart Methodist Church. Visitation will be one hour prior.
In Lieu of flowers contributions may be made in her name to the Hobart Methodist Church.