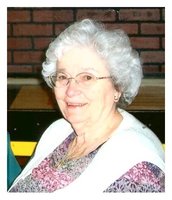 Laura T. LaFever
Laura T. LaFever, 90, passed away on March 31, 2018 at her home in Bovina Center, NY
Born on January 10, 1928 in Hobart, she was the daughter of the late Cecil and Laura Travell.
Laura was a 1945 graduate of South Kortright Central School. On July 3, 1945 she married Howard J. LaFever in Bovina Center.
She was co-owner, secretary-treasure of LaFever Excavating for 36 years.
Surviving are two sons: Howard B. (Lynde) LaFever of Morrisville and Allan P. LaFever of Florida; a daughter: MaryAnne (Dennis) West of Delhi; daughter-in-law: Susan LaFever of Bovina Center; niece: Deede (John) Nolan of Arkville; nephew: Augustus Osterhoudt of Endicott; thirteen grandchildren; eleven great-grandchildren; sisters: Jean Travell and Sarah Ballard; brothers: John, Charles and Daniel Travell.
Laura was predeceased by her husband: Howard; son: John W. LaFever; brothers: Cecil and Howard Travell; sisters: Norah Hewitt and Effie Osterhoudt.
Graveside services and burial will be held at the convenience of the family at Bovina Cemetery.
Contributions in memory of Laura may be made to the Bovina United Presbyterian Church or to the Heart of the Catskills Humane Society.
Please visit www.macarthurfh.com to share a condolence with the LaFever family.