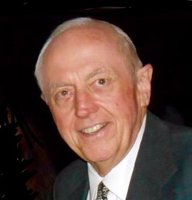 T. Ford Prime
Theodore Ford Prime died at home surrounded by his family March 6th in Delhi, NY at the age 79.
Ford is survived by his wife Hedwig (Heidi) Prime (née Schaefer) of Delhi, his daughters Ann Prime-Monaghan (Albert Monaghan) of Langhorne, PA, Pamela Dorr (John) of Delhi, and Heather Prime (Andrew Levine) of Mill Valley, CA, and his granddaughters; Alanna Marie Monaghan, Autumn Dorr, Abaigeal Ann Monaghan, Sienna Dorr, Lilith Levine-Prime, and Greta Levine-Prime.
Ford was born on June 3rd, 1938 in Huntington, NY. He graduated from Huntington High School in 1956 and then attended Villanova University where he earned a bachelor's degree in Social Sciences in 1960. Before entering the United States Army in 1961, he completed a year of graduate studies in Philosophy at Villanova.
While stationed in Munich, Germany he met and married Heidi Schaefer. Upon his discharge from the army in 1964, the young couple arrived in Manhattan, ultimately settling in Huntington, NY in 1965. He was an entrepreneur at heart and although he had success working in the insurance industry with Chubb, AIG and Marsh McLennan, he was most fulfilled working independently as a realtor or with his wife at their restaurant The Great Dane, and most recently as proprietors of TradeShowShop.com.
Ford was a proud member of the Sons of the American Revolution. Like his father before him, was civically minded and a member of Rotary International in both Huntington, NY (where he also served as president '93-'94) and Delhi, NY. As a member of one of the founding families of Huntington, he was deeply involved in and committed to the town, cofounding Leadership Huntington and the Celebrate Huntington initiative. He was awarded the Paul Harris Fellow in 1996. In Delhi, he could always be found at the Fair-on-the-Square and was a co-founder of the Delaware County Heat Initiative.
Growing up on Long Island Sound he developed a profound connection to the water. He was most at home with activities involving the sea, whether swimming, sailing, fishing, or clamming. He was a lifelong member of the Huntington Yacht Club where he developed his formidable sailing skills and honed an uncanny ability to navigate in the old school way. His particular love of sailing took him with Heidi on many adventures around the world from racing in the King's Regatta in Thailand, to sailing explorations in the Roatan Island chain.
Ford was also an avid outdoorsman and hunter whose later years in Delhi afforded him opportunities for both. Together he and Heidi created a beautiful home where he spent many summers watching his granddaughters frolic in the beautiful gardens that he and Heidi cultivated.
A funeral mass is scheduled for Saturday March 10th at St. Peter's Roman Catholic Church in Delhi, NY with a reception to follow at Pam and John Dorr's home. A burial ceremony with full military honors will take place at St. Patrick's Cemetery in Huntington, NY on Monday March 12th at 11am with a reception to follow at the Huntington Yacht Club. All are welcome to attend these celebrations of Ford's life.
In lieu of flowers, please consider sending donations to Memorial Sloan Kettering at http://mskcc.convio.net/goto/fordprime, Catskill Area Hospice and Palliative Care at http://www.cahpc.org/donate, Swim Across America at http://www.swimacrossamerica.org/site/PageNavigator/SAA_Donate.html, or any civic organization you feel appropriate.
The family would like to thank The Catskill Area Hospice and Palliative Care for the thoughtful attention that hey provided Ford in his last weeks. Additionally, they would like to thank the wonderful staff at O'Connor Hospital whose loving care over the past years was a great comfort to Ford and the family.
Please visit www.hallandpeet.com to share a condolence with the family.