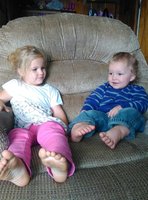 Kiley & Cody Sullivan
Kiley J. and Cody E. Sullivan, passed away early Friday morning, February 9, 2018 at their home in East Meredith following injuries sustained in a tragic structure fire.
They are survived by their parents: Adrian Beares and Carmen Sullivan; brother: Anthony Sullivan; niece: Raelynn Sullivan; grandparents: Paulette and Paul Reynolds; great-grandparents: Jim and Susan Evans, Loretta Vitalie; aunts and uncles: Steven Reynolds, Mark & Beth Reynolds and Rosa; and several other family members.
A memorial service and celebration of life will be held at 4PM on Friday, February 16, 2018 at the Grand Gorge United Methodist Church with the Rev. Dottie Morris and Rev. Martha Vink officiating.
Please visit www.macarthurfh.com to share a condolence with the Sullivan Family.