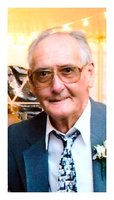 Donald W. Cobbe
Donald Wesley Cobbe, a proud lifelong area farmer, passed away peacefully at the age of 87 on Thursday, February 1, 2018 at Mary Imogene Bassett Hospital, Cooperstown after a brief illness.
The son of William Ellsworth Cobbe and Helen Elizabeth Feake, Donald was born on July 24, 1930 in Delhi. He attended a one room school house through the 6th grade, and later graduated from Delaware Academy, class of 1948.
Don married Elsie Mary Andrews in West Rockport, Maine on August 24, 1957. They celebrated their 50th wedding anniversary shortly before her passing. Together they operated the family farm on West Platner Brook in Delhi where they raised their seven children. Don truly loved farming and took pride in his daily milk can route, delivering milk to the creamery in Delhi. He was a long-time member of the Dairymen's League (later Dairylea) for over 50 years. He continued farming his whole life with his son, David.
Don enjoyed square dancing, bowling, hunting, and playing pinochle. Later in life, he loved driving around the family farm on his side by side four-wheeler, and was always delighted to see his great grandson, Henry.
Donald was predeceased by his wife, Elsie on December 4, 2007, a brother, William Cobbe and two sisters, Frances Decker and Ella Jean Elwood.
He is survived by his seven children: David Cobbe, Joan Chytalo (Jamie O'Donnell), Pamela Barkalow (Fred), Stephen Cobbe (Danna), Christine Roche (William), Donald Cobbe, and Thomas Cobbe (Aubrynn Nealis); six grandchildren: Mathew Barkalow, Lauren Sherwood (Timothy), Derek and Aaron Cobbe, Stephanie Chytalo, and Marisa Chytalo (Brandon Patraw); and one great grandchild, Henry Sherwood. He is also survived by a sister, Helen Handley, sister-in-law, Nancy Hunter (Vernon) and several nieces and nephews.
Calling hours will take place on Monday, February 5, 2018 from 3-6PM at the MacArthur Funeral Home, Delhi. Funeral services will be held at 1:30PM on Tuesday, February 6 at the West Delhi United Presbyterian Church. Private burial will be at the Woodland Cemetery, Delhi.
In lieu of flowers, memorial contributions may be made to the Delaware Academy, 2 Sheldon Drive, Delhi to benefit the FFA program in memory of Donald Wesley Cobbe.
Please visit www.macarthurfh.com to share a condolence with the Cobbe family.