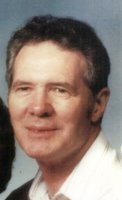 Richard W. Martin
Richard W. Martin, 77, of Stamford, passed away at Robinson Terrace Nursing Home on Monday morning, January 29, 2018 following a long battle with Parkinson's Disease.
Born on July 8, 1940 in Hobart, Richard was the son of the late Ward and Marie (Sternberg) Martin.
A 1958 graduate of South Kortright Central School, Richard worked on a local farm until proudly serving in the US Navy from 1959 until 1966.
He was married to Sandra Martin on December 22, 1960, a union that lasted 56 years until her passing on their anniversary in 2016.
Richard was a computer programmer working for various companies and retiring from New York State ODTA in Albany. He also worked with the Connecticut State Police as an Auxiliary State Police Officer for many years.
Mr. Martin was always very athletic, he enjoyed playing basketball in rec. leagues and enjoyed bowling with family. He enjoyed the outdoors, doing yardwork, working on cars and walks in the woods.
Besides his wife, Richard was predeceased by a great-grandchild: Holly Maynard.
He is survived by his children: Quincey (Edward) Dudek of Ballston Spa, Beth (Steve) Martin of Tolland, CT and Richard S. "Scott" (Susan) Martin of Harpersfield; grandchildren: Shayne Dudek, Conor Dudek, Rhaya (Dustin) Maynard, Alexis Martin, Christopher Martin & Heather Martin; great-grandchildren: Keagan Maynard and Kyle "KJ" LaClair, Jr.; sister: Helen (Larry) Kelly of Delhi; and several nieces, nephews and cousins.
A celebration of life will be held at 1PM on Saturday, February 3, 2018 at the MacArthur Funeral Home, 40 Cornell Ave., Hobart, followed by a reception and time of remembrance at the Grand Gorge Fire Hall, Grand Gorge.
Contributions in memory of Richard may be made to the Michael J. Fox Foundation to battle Parkinson's Disease at www.michaeljfox.org
Please visit www.macarthurfh.com to share an online condolence with the Martin Family