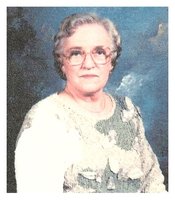 Cora Helen Scudder
Cora B. Scudder, 96, of Stamford, formerly of Oneonta, passed away Saturday evening, January 13, 2018 at Fox Hospital in Oneonta surrounded by her family.
Born on September 13, 1921 in Sharon Springs, Cora was the only daughter of the late Edward and Mary (Mattice) Baker.
She was a graduated of Bugbee School and Oneonta Senior High School.
Mrs. Scudder was married to Donald G. Scudder of Oneonta on June 1, 1940 in Goshen, NY with Ken and Daisy Loucks as witness.
Cora worked for the Oneonta Star in the Circulation Dept. and retired from Empire Livestock Auctions in Oneonta.
She was a member of the American Legion Auxiliary, in Oneonta and a member of Presbyterian Church in both Oneonta and Stamford.
Cora loved her family and was very proud of her grandchildren and great-grandchildren. She enjoyed visits from friends and family. She also spent many hours with her books, movies and loved to play bingo and cards.
Mrs. Scudder is survived by her daughters: Linda (Charles "Lad") McKenzie and Connie (Stephen) Lewis; 3 grandchildren: Donald S. (Sara) McKenzie, Douglas C. (Celia) McKenzie and Amy A. (George) Lewis Koch; great-grandchildren: Hollyn, Charlie, Eden and Anna McKenzie; and several cousins.
Friends and relatives are invited to call on the family from 4-7 PM on Thursday, January 18, 2018 at the MacArthur Funeral Home, 40 Cornell Ave., Hobart. A funeral service will be held at 3PM on Friday at the First Presbyterian Church, Stamford, where a calling hour will precede the funeral from 2-3PM at the church.
In lieu of flowers contributions in memory of Cora may be made to the First Presbyterian Church of Stamford or to Catskill Area Hospice and Palliative Care.
Please visit www.macarthurfh.com to share a condolence with the Scudder family.