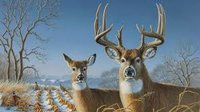 Bradley A. Craft
Bradley A. Craft, 64, of Turkey Hollow Road, Stamford, passed away at his home on January 11, 2018.
Born in Stamford, Bradley was the son of the late Douglas and Mable Craft.
Brad was married to Amy R. Craft who passed away on March 28, 2015.
He and Amy owned and operated the Craft Family Dairy Farm, the farm continues today.
Mr. Craft enjoyed being outdoors, working on the farm, he also enjoyed hunting, fishing and spending time relaxing with family and friends.
He is survived by his children: Scott (Emily) Craft of East Meredith, Michelle (Nick) Titze of Stamford and Katelyn (Patrick Delrosario) Craft of Jefferson; grandchildren: Evelyn and Allen Craft; uncle: Don Craft; and several nieces, nephews, cousins, and friends.
A celebration of life will be held at a later date to be announced.
Please visit www.macarthurfh.com to share a condolence with the Craft family.