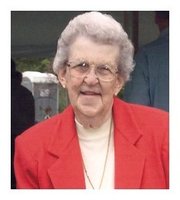 Ruth Worden Hutson
Ruth Worden Hutson, 94, of DeLancey, passed away peacefully at her home on Thursday morning, January 11, 2018.
Born on August 16, 1923 in Andes, the daughter of the late Ephraim and Buela Worden.
Ruth attended College in Delhi and graduated with a degree in foodservice. She worked in both Albany and Rome in the war plants during WWII.
On January 1, 1947 she married Thomas R. Hutson, a union that lasted 48 years until his passing in 1995. In 1952 Ruth and Tom purchased, owned and operated Riverhaven Dairy Farm in DeLancey, the farm continues today still under the operation of the Hutson family.
Ruth enjoyed cooking, flower gardening, but she loved spending time with people, her greatest joy was her family, her children were a very important to Ruth.
Besides her husband, Ruth was predeceased by her siblings: James Worden and Jean Robson.
She is survived by her sons: R. Thomas Hutson of DeLancey, Richard M. Hutson of Hamden and James (Melissa) Hutson of Virginia Beach, VA; daughter-in-law: Nancy Hutson; and several nieces, nephews cousins and friends.
Graveside Commital Services will be held at 1PM on Saturday, June 30, 2018 at the Hamden Cemetery, Hamden, NY
Please visit www.macarthurfh.com to share a condolence with the Hutson Family.